After a 4-1 win over Real Madrid in this year's UEFA Champions League, Ajax have earned themselves a quarter final match up against Italian giants Juventus. They have one of the most famous youth academies in world football, a set up which has been copied and envied by clubs all over the globe.
We have taken a look at some of the academy's best success stories over the years.

Christian Eriksen
Eriksen began his youth career at Ajax in 2008 and made his breakthrough to the first team in a 1-1 draw against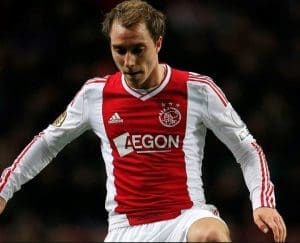 NAC Breda. Eriksen went on to play 113 times for Ajax, also earning an international call up for Denmark whilst in the Eredivisie.
Eriksen moved to Tottenham for a fee of £11 million in 2013 and has gone on to become one of the most recognisable figures in the English Premier League. The Dane, following in the footsteps of compatriots Michael and Brian Laudrup, became an icon at Ajax in an era when they were losing some of their status in European terms. Eriksen's subtle football and vision were a reminder of the club's fine creators of the past. Inevitably, his talent outgrew the confines of the Netherlands, but he patiently waited for what he felt was the right stage of his maturity to move to Tottenham Hotspur.
Wesley Sneijder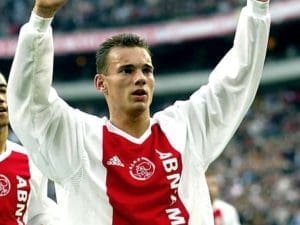 Sneijder began his career at Ajax, joining the youth academy in 1991 as a seven-year-old, following the footsteps of his brother. He made his first professional appearance in February 2003 in a 6-0 win against Willem II. After leaving the Amsterdam giants, Sneijder went on to play for clubs such as Real Madrid, Inter Milan and Galatasaray. Classed by many as a brilliant, diminutive playmaker, Sneijder inherited the fabled number 10 jersey at Ajax and made 126 appearances for the club.
Real Madrid paid an eye-catching €27 million for Sneijder in 2007 and he won the Primera Liga with Madrid. Upon joining Inter Milan, the midfielder won a Serie A title and the 2010 Champions League whilst guiding for the Netherlands, for whom he holds the record for appearances, to the 2010 World Cup final in South Africa.
Rafael van der Vaart
Midfielder Van der Vaart spent seven years at the Ajax youth academy, between 1993 and 2000. He went on to make 117 appearances and score 52 goals in a five year stretch with the 1st team. Van der Vaart has made over 400 professional football appearances scoring 135 goals, for clubs such as Real Madrid, Tottenham, Hamburg and Real Betis. Van der Vaart represented his country in three World Cups and three European Championships.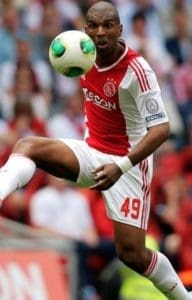 Ryan Babel
Ryan Babel began his career at Ajax in 1998, staying with the youth squad for six years until 2004. Whilst he was still 17, Babel made his first team debut in a 4-0-win vs. ADO Den Haag. He scored his first senior goal against De Graafschap in a 5-0 win and went on to make 54 appearances for the Dutch national team. Since leaving AFC Ajax, Babel has appeared for Liverpool, Hoffenheim, Besiktas and Fulham.

Daley Blind
Following on from his father, Danny, Daley Blind joined the Ajax Youth Academy in 1998. Consistently performing with the A-juniors in the 2006-07 season, Blind earned his place in the first team in the 2008-09 season, signing his first professional contract aged 17. Blind's debut arrived later that season, in December 2008, in an away match vs. FC Volendam. Blind went on to play his trade for Manchester United before returning to his boyhood club in 2018. To date Blind has made 60 appearance for the Netherlands, scoring two international goals.
Edgar Davids
Davids made his senior debut in 1991. Recognized by Pelé as one of the world's 100 greatest living footballers, Edgar Davids, a Suriname native, is one of the most complete midfielders to have played the game in the last twenty-five years. Davids spent six years in the youth set up at AFC Ajax before spending five successful years in the first-team.  Moves to AC Milan, Juventus, Barcelona, Inter Milan, Tottenham Hotspur and a return to Ajax were all part of his impressive football CV.
Dennis Bergkamp
Bergkamp joined Ajax Academy at the age of 11. Working his way through the squads, Bergkamp was handed his debut by another academy legend, Johan Cruyff, in a 2-0 victory against Roda JC. Winning the league title, the European Cup Winners' Cup and the UEFA Cup on one occasion. Bergkamp moved to Inter Milan in 1993 and won the UEFA Cup once in his 2 years at the club. Bergkamp then moved to Arsenal in 1995 and became a club legend. Winning the Premier League on 3 occasions, being part of the team that went unbeaten in a season. Bergkamp came runner-up in the 1993 Ballon d'Or and 3rd place in 1992. He was also named in the Fifa 100, which is a list created by Pele of the 100 greatest living players.
Fancy following in the footsteps of Ajax's superstars of past and present? Trans World Educational Experiences offer bespoke football tour experiences to some of Europe's premier football destinations, including our Amsterdam Football Development Tours. For more information, visit our enquiry form here and allow us to prepare a sample itinerary for you.